I wanted to thank everyone at the Snite Museum of Art for their kind hospitality. I also wanted to thank my co-speaker, Christine Rapp-Morseau. Above is a pic of Christine speaking (I am to the left). I also received nice comments. Thank you to all who attended!
Posted with permission:
Dear Christine and John,
Thank you for all of the time and thought you put into making Saturday's program such a success. I have heard from many people since how much they enjoyed the event and how much they learned (me included!). I especially appreciated the generous ways in which you each worked to make your particular areas of expertise accessible to a general audience.
Miigwetch!
Snite Museum of Art
University of Notre Dame
And a note from Christine:
Migwetth
Frances
. I think it worked great together. John's slide show was very informative and made me emotional seeing my grandmother, my teacher on screen. Much thanks for your work at the Snite Museum. I didn't really understand some of the art there until your colleague/friend explained to me in detail about them. It was amazing and took on a whole new meaning to me. Job well done
Frances
, I loved it!
Christine Rapp-Morseau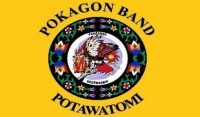 Set for this Memorial Day weekend is the tenth annual Pokagon Band of Potawatomi Pow Wow next weekend. The gathering in Dowagiac will feature traditional singing, dancing, and culture, and everyone is invited. The Pokagon name for the event literally translates as "we are honoring the ones we're tied to through generations." The grand entries for the pow wow will take place at 1 p.m. on Saturday, May 26, and 1 p.m. on Sunday, May 27. On both mornings, vendors will set up before the dancing starts, and the gates will open at 10 a.m. The event is considered a traditional pow wow where dancers compete before judges in different categories. The pow wow will take place at the Sink Road campus of the Pokagon band in Dowagiac.
Event summary
When: Jun 5 12:00PM – 1:00PM See more dates
Location: Field Museum 1400 S Lake Shore Drive, Chicago, IL 60605
Ticketing: This event is Free
About this event
Hear about a variety of Native American topics from Dr. John Low.
Every week the A. Watson Armour III Research Seminar features invited speakers and their innovative research in natural history and culture.
Enjoy a lecture by Dr. John Low, Associate Professor of Comparative Studies at Ohio State University. A Q&A session will follow.
This event is free to attend, and museum admission is not required. Guests may enter through the West Entrance to join us in the A. Montgomery Ward Lecture Hall on the ground level.
Questions? Contact armourseminars@fieldmuseum.org.