I wanted to thank everyone at the Snite Museum of Art for their kind hospitality. I also wanted to thank my co-speaker, Christine Rapp-Morseau. Above is a pic of Christine speaking (I am to the left). I also received nice comments. Thank you to all who attended!
Posted with permission:
Dear Christine and John,
Thank you for all of the time and thought you put into making Saturday's program such a success. I have heard from many people since how much they enjoyed the event and how much they learned (me included!). I especially appreciated the generous ways in which you each worked to make your particular areas of expertise accessible to a general audience.
Miigwetch!
Snite Museum of Art
University of Notre Dame
And a note from Christine:
Migwetth
Frances
. I think it worked great together. John's slide show was very informative and made me emotional seeing my grandmother, my teacher on screen. Much thanks for your work at the Snite Museum. I didn't really understand some of the art there until your colleague/friend explained to me in detail about them. It was amazing and took on a whole new meaning to me. Job well done
Frances
, I loved it!
Christine Rapp-Morseau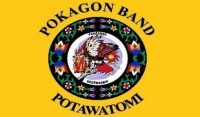 Set for this Memorial Day weekend is the tenth annual Pokagon Band of Potawatomi Pow Wow next weekend. The gathering in Dowagiac will feature traditional singing, dancing, and culture, and everyone is invited. The Pokagon name for the event literally translates as "we are honoring the ones we're tied to through generations." The grand entries for the pow wow will take place at 1 p.m. on Saturday, May 26, and 1 p.m. on Sunday, May 27. On both mornings, vendors will set up before the dancing starts, and the gates will open at 10 a.m. The event is considered a traditional pow wow where dancers compete before judges in different categories. The pow wow will take place at the Sink Road campus of the Pokagon band in Dowagiac.
Event summary
When: Jun 5 12:00PM – 1:00PM See more dates
Location: Field Museum 1400 S Lake Shore Drive, Chicago, IL 60605
Ticketing: This event is Free
About this event
Hear about a variety of Native American topics from Dr. John Low.
Every week the A. Watson Armour III Research Seminar features invited speakers and their innovative research in natural history and culture.
Enjoy a lecture by Dr. John Low, Associate Professor of Comparative Studies at Ohio State University. A Q&A session will follow.
This event is free to attend, and museum admission is not required. Guests may enter through the West Entrance to join us in the A. Montgomery Ward Lecture Hall on the ground level.
Questions? Contact armourseminars@fieldmuseum.org.
The Pokagon Band of Potawatomi Indians and the City of Chicago: Special Guest Dr. John Low
Dr. John Low from the Ohio State University will be speaking about this book Imprints: the Potawatomi Indians & the City of Chicago (2016, Michigan State University Press). Dr. Low will examine the ways some Pokagon Potawatomi tribal members have maintained a distinct Native identity in Chicago, their rejection of assimilation and their desire for inclusion without forfeiting their "Indianness." This event is part of our campus programming to commemorate the Illinois bicentennial.
The Pokagon Band of Potawatomi Indians and the City of Chicago: Special Guest Dr. John Low?
The audio of this discussion is available below:
Visit our podcast page
Listen in iTunes
Download the MP3 audio
Thursday, November 15, 2018, 7 p.m.
Join Pokagon Potawatomi Indian John N. Low as he discusses the history of the use of a vast network of trails and portages in Northeastern Illinois between two great water systems: the Mississippi River and the Great Lakes.
Indigenous peoples had long settled in villages in what is now northeastern Illinois, prior to contact with Europeans.  Northeastern Illinois was one of the best places to portage between two great water systems: the Mississippi River and the Great Lakes. Native peoples could paddle to the St. Lawrence River or Allegheny River in the east, and on to the Atlantic Ocean or south to the Gulf of Mexico or to the foothills of the Rocky Mountains in the west. Native Americans understood the importance of this geography and took advantage of this portage system to trade goods for hundreds of years before European settlers arrived. Today's residents of Aurora and surrounding communities also know the richness of the soil and the resources that made the region a very special place to live.
Thank you to all of my students who joined me at the Open House today!
In July the Pokagon Band welcomed Wen Peihong, a Chinese scholar currently completing a translation of Simon Pokagon's 1899 novel Queen of the Woods into Mandarin Chinese. Wen learned more about the people and culture while meeting with the tribal archivist, interviewing Pokagon tradition bearers, and observing a language class.A professor at China's Southwest University for Nationalities, Wen researches indigenous and ethnic minorities and their cultural preservation and revival efforts.
Dr. John Low, a Pokagon Band citizen and professor at Ohio State University, met Wen at an international conference on ethnic minority languages and invited her to his Potawatomi community.
Wen spent the last year visiting and studying in the U.S. and meeting with other native communities. Translating Queen of the Woods is complicated, as each Chinese symbol represents syllables in English words. Wen and her colleague, Aku WuWu, a poet who writes in the Yi language, are very interested in preservation and promotion of Yi, and in Native Americans as an ethic minority. WuWu is the author of Coyote Traces, a book Wen helped translate about the Yi and the indigenous people of American and the interconnections between cultures and languages.
More here:
Story at link above.
Dilg's map shows a lizard-shaped mound on the block bounded by Oakdale Avenue, Sheffield Avenue, Wellington Avenue, and Mildred Avenue (formerly "May Street"), oriented from north to south, in the western third of the block. (Courtesy Chicago History Museum, Charles A. Dilg collection)
"Leading members from the Oneida Nation, Citizen Potawatomi Nation, and United Houma Nation of Louisiana discuss vital issues of tribal citizenship in Indian Country. By exploring topics such as constitutional reform, tribal enrollment, blood quantum, and descendancy, the speakers discuss the many different ways Native tribes and nations define, grant, and express indigenous citizenship."
You can download the pdf here:
Encounters, Exchange, Entanglements: Current Perspectives on Intercultural Interactions throughout the Western Great Lakes